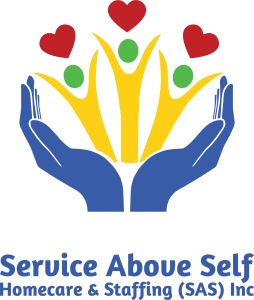 The fruit of Love Is Service, that is why we Serve
The fruit of Love Is Service, that is why we Serve
Our Focus Is Helping Seniors Live Well At Home
We strive towards delivering excellence in home care services. The quality of our service is based upon 5 pillars:
Selfless Care and Paying it Forward
Serve with Empathy and Respect
Compassionate care for all our clients
Listening and learning to improve every day
Creating a good rapport with all our clients
At Service Above Self Homecare & Staffing (SAS), we are dedicated to the mission of caring for you and your loved ones. With services throughout Massachusetts, our qualified in-home caregivers provide you with peace of mind knowing your loved ones are safe, comfortable, and well taken care of in their golden years.
It's a promise we made from the very beginning after struggling to find quality care for our parents, and one that we are committed to bringing to the people you care about most. Aging is part of life, but it doesn't have to be a burden on other family members or friends, and it doesn't have to rob you or your loved ones of independence. We help people continue living in their homes surrounded by friends and family for as long as possible.
We listen to your needs and are here to help you find the best services for your parent, spouse, or loved one. Find out more by calling us today at 508-315-7925
Why choose Service Above Self Homecare & Staffing (SAS)?
Schedule a FREE in-home consultation
Compassionate Care Services
As our name suggests, we go above and beyond to offer Selfless home care services to all individuals who need such services so they can lead healthy and dignified lives. Please check out our service offerings.
Are you in need of a Homecare Agency that has competent in-home caregivers? You can visit Service Above Self and get some of the best home care services in the area.
We are a local organization that is committed to providing excellent services. Therefore, you can trust us with the care of your loved ones because of our expertise, experience, and values.
For more information call us today
Trained CNA-Certified Staff and Compassionate Caregivers in Natick
Finding a personal or home care services provider who's passionate and driven to help your loved ones live a healthy life can be tough, but we're here to help. Service Above Self Homecare & Staffing (SAS) Inc. has a team of CNA, HHA, and MAP-certified homecare staff in Natick. Our trained and extremely professional caregivers are well-versed in taking care of aging individuals and seniors with dementia.
We understand that looking after a senior loved one can be challenging for family members. And as a primary caregiver, you may also need a break from your daily activities. That's why we bring a wide range of services, including respite, veteran care, daily living assistance, transportation, and staffing to help your loved ones or patients live their best life.
Contact us to discuss your requirements today or learn more about our caregiving services in Natick here.
For more information call us today